Apr 17, 2014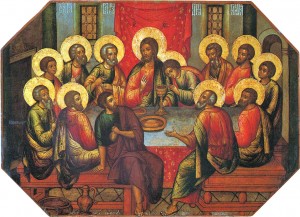 What Is It Anyway?
Holy Thursday! It's that awkward middle of the end of the week day. Confusing and depressing altogether but there's much more to this day than you may imagine. And today is the day. Today IS Holy Thursday!
I'll cut to the chase and tell you what it's all about (although many of you may already be familiar). Holy Thursday is a day set apart to celebrate the Last Supper,
when Jesus instituted mass and the sacrament. Holy Thursday may also be referred to as Maundy Thursday because of the Latin word mandatum, meaning "commandment."
Holy Thursday may be more important than you think, it's the oldest celebration of Holy Week. Holy Thursday is Catholicism's commemoration of the sacrament of the holy communion, mass and the priesthood. Jesus blessed the bread and wine during the Last Supper with the same words used by priests in many churches today.
We can all learn during this time of year the importance and significance of tradition. Tradition changes the way people live and think. Does your business change the way people live and think? It can and should. If you're unsure of how to improve your offering or provide a superior offering that will help more people then give us a call. Our team of marketing consultants in Utah will be happy to help you reach your greatest potential. Looking forward to hearing from you!
And Happy Holy Thursday!
Leave a Reply
Scott Christofferson