Jan 31, 2014
Who doesn't love a good food truck? In the past few months Provo has been privy to some delicious meals-on-wheels! Hopefully you have noticed these delightful food trucks rolling around Provo and all of Utah valley, delivering some of the most enjoyable food one has ever tried. If you have never had the opportunity to try these savory samplers, or seem to always miss the trucks, do not fret. We have the solution to all of your hunger problems.
Provo has started the Food Truck Roundup! Local Food Trucks get together every Thursday night on the south side of The Startup Building on 560 South 100 West in Provo. One of my personal favorites, the Cravings Bistro, creates some of the best grilled cheese sandwiches I have ever had. The last time I went I ordered a grilled cheese that came with bacon, apple slices and cheese layered between a glazed doughnut and then grilled. It was delicious! If grilled cheese really isn't your thing the Roundup also offers places like Sweeto Burrito, Waffle Love, Fiore Pizza, and Guzzles with new food trucks arriving every week.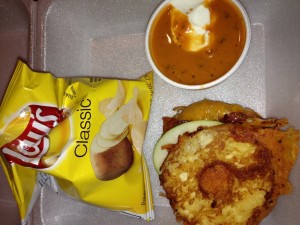 Don't let the cold stop you from coming and trying these tasty trucks. The Startup Building offers indoor seating along with live music. You really can't go wrong with the Food Truck Roundup. Whether you are looking to feed your entire family or looking for a fun date night idea, the Roundup is your answer.
I consider myself a novice when it comes to Food Truck prowess and thought that it was only recently that food trucks were popular but actually these meals-on-wheels have been around for more than a century.
The first food truck, or chuck wagon, began in 1866 when the "Father of the Texas Panhandle," Charles Goodnight, took an old US Army wagon and converted it into a chuck wagon to feed the cattle herders moving west. The food consisted mainly of dried beans, coffee, cornmeal and other easily preserved foods. Since then these chuck wagons have evolved into these wonderful food trucks that we see roaming the streets today.
Make sure to "like" the Provo Food Truck Roundup page on Facebook and go check it out on Thursday nights.
Leave a Reply