Nov 8, 2011
SEO is the #1 source of leads for both B2C and B2B marketers, beating out both PPC and social media marketing in a recent survey of online marketers.
The 2011 Webmarketing123 State of Digital Marketing survey was conducted online in September. Over 500 marketing professionals completed the survey.
Some bullet points in the survey reveal that:
46% of B2B participants say their most important objective is to generate leads.
53% of all participants say SEO makes the biggest impact on lead generation, followed by 28% for PPC and 19% for social media.
B2B companies are active somewhat evenly across all three leading social networks: 34% Facebook, 26% Twitter, and 25% LinkedIn.
Whether B2B or B2C, both groups of marketers agree that SEO has the biggest impact on lead generation. 57 percent of B2B marketers credit SEO as their primary source of generating leads, while 41 percent of B2C marketers said the same thing.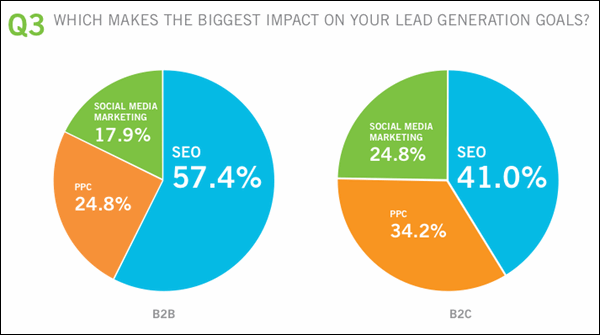 Social Media and SEO have strong ties and businesses would be hard pressed to do one without the other. Every business needs a custom Facebook page that has ties to their website and other online marketing strategies. Most Facebook pages if done properly can increase traffic to the company website as well as increase its potential for ranking organically in Google. Specifically, Google has started taking into consideration data from the social media outlets when determining organic rankings for web pages.
One thing to keep in mind is the longer term nature of SEO and Social Media. These two strategies are designed to create authority in the minds of potential customers and search engines. These are not advertsiing strategies but are marketing strategies. They are longer term and involve cultivating a relationship with the media outlet as well as the customers that it serves.
In contrast, when employing PPC strategies, marketers can not only be very short term but can be simply used for testing keyword phrases for SEO campaigns. SEO and PPC can work hand in hand and even improve conversion rates for one another.
The purpose of this study was to conduct research and achieve empirical data that shows which mediums are most effective and are being deployed the most by online marketing professionals. In summary, SEO remains the most widely used and most effective medium for generating leads for companies whether they focus on B2B or B2C markets. In addition, social media is projected to attract more of the spend in 2012 and will remain the fastest growing marketing medium for businesses.
Leave a Reply